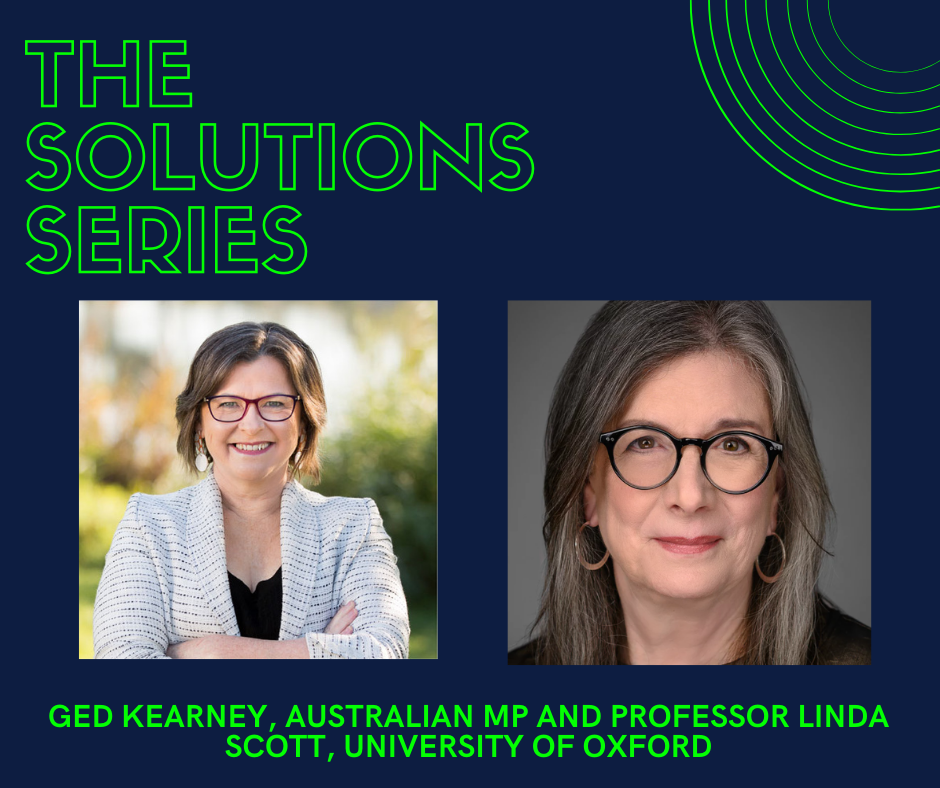 International gender equality experts to speak at WorkEqual event
Acclaimed author and women's economic empowerment expert Linda Scott and Australian MP Ged Kearney are amongst the speakers at a digital event being hosted by WorkEqual this Thursday, 19th November.
The event will focus on the topic of 'How the Value Placed on Caring Contributes to Gender Equality at Work' and will be hosted online from 1-2pm.
Linda Scott is Emeritus DP World Professor of Entrepreneurship and Innovation at the University of Oxford, and Senior Consulting Fellow to Chatham House, the Royal Institute for International Affairs. She founded, and is now Senior Adviser to, the Global Business Coalition for Women's Economic Empowerment; and founded DoubleXEconomy LLC, a consulting firm specialising in women's economic empowerment. Her book, 'The Double X Economy', has been shortlisted for the 2020 Royal Society Insight Investment Science Book Prize.
Professor Scott's 'Double X Economy' concept focuses on the global economy of women – not just as consumers or workers, but as investors, donors, and entrepreneurs. Currently based in the USA, she works with multinational corporations, international agencies, national governments, and global NGOs designing and testing programmes to better include women in the world economy.
Ged Kearney, meanwhile, is the Shadow Assistant Minister for Skills and the Shadow Assistant Minister for Aged Care in Australia. Having started her working life as a nurse, she rose to become Federal Secretary of the Australian Nursing Federation and , from 2010 to 2018, served as the president of Australian Council of Trade Unions (ACTU), the peak body of Australia's union movement.
In addition to Linda Scott and Ged Kearney, the line-up for Thursday's event includes:
In addition to Linda Scott and Ged Kearney, the line-up for Thursday's event includes:
Róisín Ingle, columnist, features writer and podcaster with The Irish Times as MC;
Sean Cooke, CEO of the Men's Development Network;
Helen Russell, Research Professor at the ESRI and lead author of a 2019 report on care and unpaid work responsibilities in Ireland;
Sonya Lennon, founder of the WorkEqual campaign; and
Professor Michelle Millar, Dean of Students at NUI Galway and academic advisor to WorkEqual.
The event is free to attend, but registration in advance is required.
Billed as 'The Solutions Series', Thursday's event is the fourth of five online panel discussions taking place throughout the month of November as part of the WorkEqual campaign. The topics of all discussions focus on progressing gender equality in society. The final event in the series will take place on Thursday, 26th November, and will focus on women in leadership.
The WorkEqual campaign is sponsored by Permanent TSB and SOLAS.