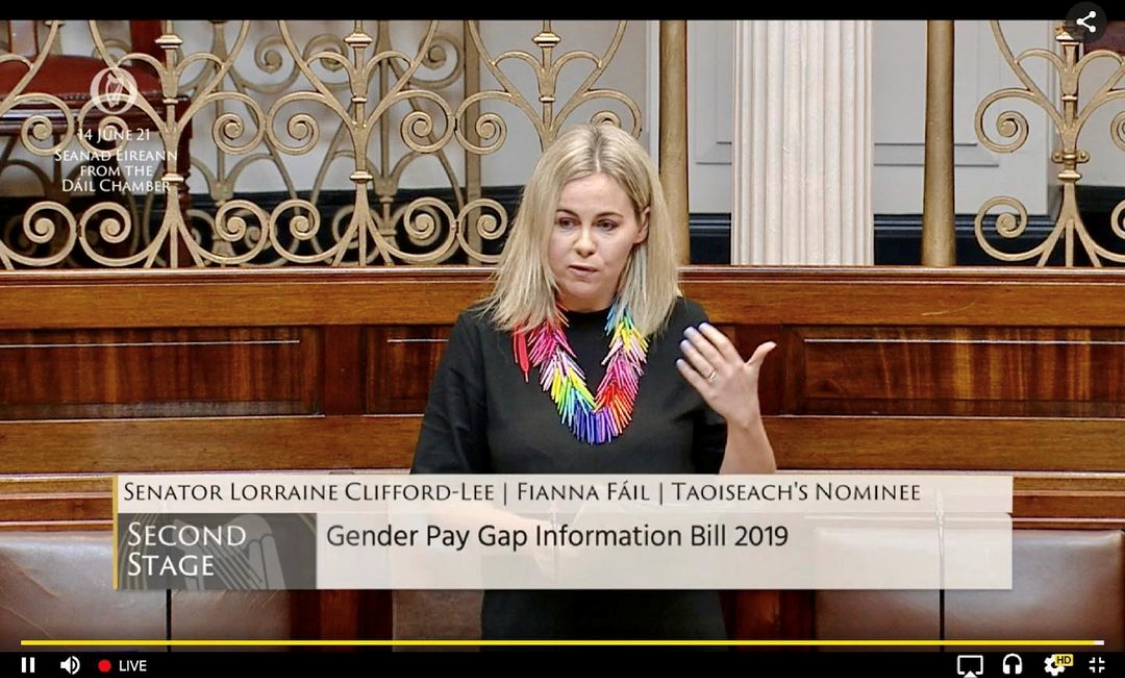 Contribution of WorkEqual to tackling the gender pay gap highlighted in Seanad
The Gender Pay Gap Information Bill – a ground-breaking piece of legislation that will oblige employers to report on their gender pay gaps – is being debated in Seanad Éireann this week.
Since our establishment in 2016, WorkEqual has advocated for the introduction of gender pay gap legislation. We very much welcome the Gender Pay Gap Information Bill and look forward to its enactment into law. However, we have a number of concerns in relation to the Bill, as follows:
The need for the new legislation to not only focus on compliance, but also on incentivising employers to make meaningful progress in tackling the gender pay gap (i.e. by including a requirement for employers to develop strategies and action plans to tackle their pay gap); and the need for a public awareness campaign to coincide with the introduction of the legislation – again, not just focused on compliance, but aimed at ensuring employers and the wider public begin to truly understand what the pay gap is; and why it is important to measure it.
We were delighted to see staunch supporters of WorkEqual speaking about the Bill during the Seanad debate yesterday, with a number of Senators highlighting our concerns and directly referencing the contribution of the WorkEqual campaign to raising awareness of the gender pay gap. Speakers included: the three Co-Chairs of our WorkEqual Oireachtas All-Party Group – Senators Ivana Bacik, Lorraine Clifford-Lee and Emer Currie – as well as Senators Erin McGreehan, Mary Seery Kearney, and Alice-Mary Higgins, all of whom have supported our work in the past.
You can read the full Seanad debate here.
And, below, we have provided further details of our key concerns about this Bill and our hope for how it will be successfully implemented…
Without requiring employers to develop both a strategy and an action plan to address their gender pay gaps, the proposed legislation continues to focus on the problem, rather than the solution.
Research undertaken last year by the Global Institute for Women's Leadership (GIWL) analyses gender pay gap reporting legislation in 10 countries around the world: Australia, Austria, Belgium, Finland, France, Germany, Iceland, Spain, Sweden and the UK.
In the UK, when providing gender pay gap data, there is no requirement for employers to provide any information about policies put in place to improve gender equality or to produce a corrective action plan – something identified in the research report as an obvious failing. In contrast, in Australia, information from employers on workplace policies is required, while in Germany, Finland, Sweden and Spain, information on measures taken to promote equality and impact is required. France goes one step further there, failure to gain a certain score on an equality index triggers a requirement for an action plan.
The GIWL research found "there is a danger that without a requirement to produce [an action] plan the employers that most need to make changes will fail to do so". With specific reference to the UK, the research concluded that: "An approach similar to that seen in other jurisdictions in which employers must not only develop plans, but report on progress towards their implementation would represent an ambitious step forward in terms of accelerating change".
Ireland has an opportunity to learn from the experience of other jurisdictions to ensure our gender pay gap legislation is in line with best international practice. We must ensure the new law not only focuses on compliance, but also on incentivising employers to make meaningful progress in tackling the gender pay gap.
There is a need for an accompanying awareness campaign – not just to ensure compliance amongst employers, but to build understanding of what the gender pay gap is and why it is important to measure it
There is still widespread confusion (including amongst some employers and media commentators) about what the "gender pay gap" means; how it is calculated; and why. A common error is equating the right to "equal pay for equal work" (already enshrined in Irish law) with the "gender pay gap". The video we produced to mark Equal Pay Day 2020 (featuring a cross-section of Oireachtas members and the Lord Mayor of Dublin) has a simple explanation of the gender pay gap and the factors that contribute to it. This video was subsequently used by the Citizens' Assembly on Gender Equality – to help inform members of the Assembly about the gender pay gap.
To ensure support from both employers and the general public for the new legislation, the Government must plan a public information campaign that really educates people about what the pay gap is; and why it is important to measure it.
We look forward to this important piece of legislation coming into force in Ireland in the months to come. After five years of campaigning to raise awareness of the gender pay gap, this is a real milestone for WorkEqual, and we would like to thank all of the members of the Oireachtas who have supported us along the way.