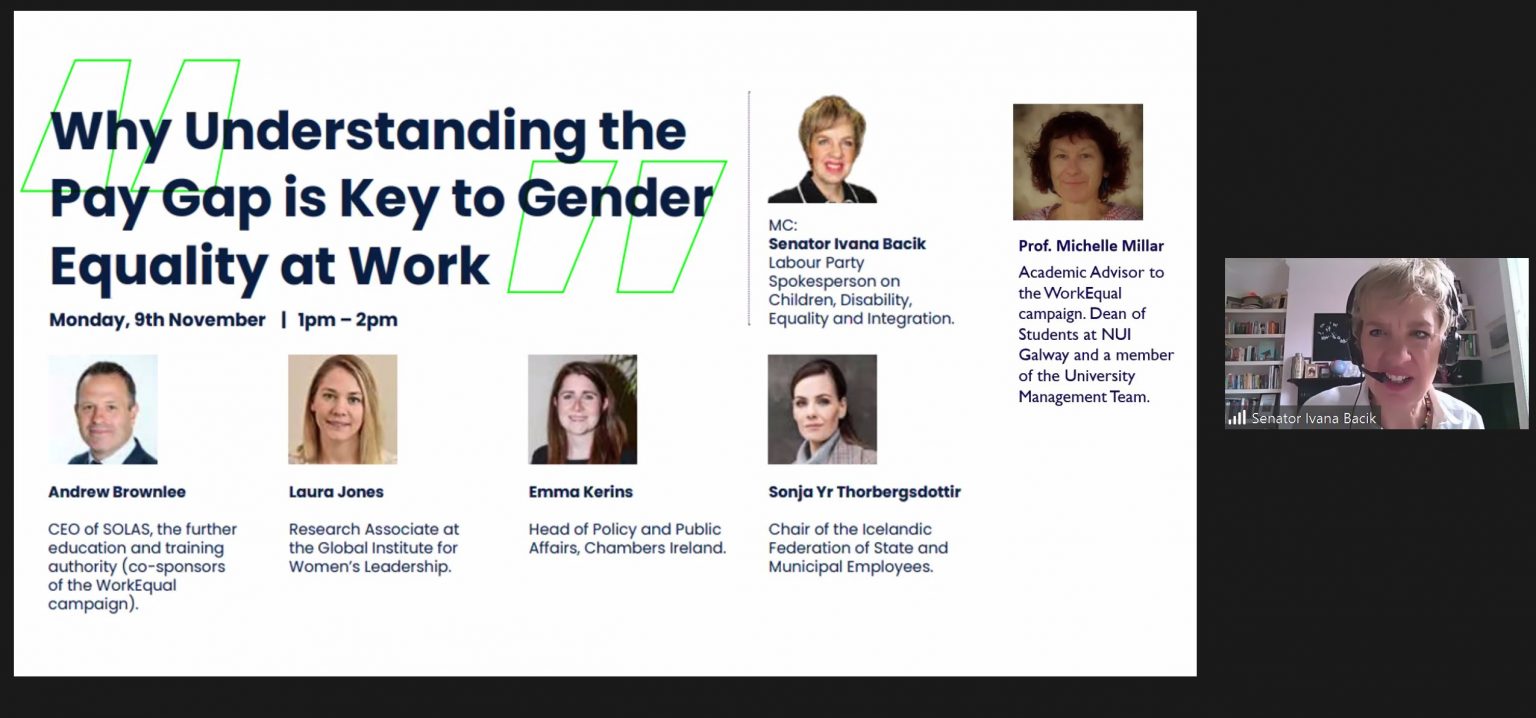 #EqualPayDay ignites online discussion
As many of you will know, Monday November 9th, was Equal Pay Day in Ireland – the day on which women effectively stop earning for the rest of the year, due to the current gender pay gap of 14.4%.
The Solutions Series tackles Equal Pay Day
Equal Pay Day was also the topic of the second instalment of The Solutions Series – 'Why understanding the gender pay gap is key to gender equality at work.' Labour Senator, Ivana Bacik, was our brilliant MC for the session.
Watch it back…..
If you missed out on our discussion about the gender pay gap, you can catch up now. https://youtu.be/ZJr0ZXdUrPM
First up on the panel was Laura Jones from the Global Institute from Women's Leadership at Kings College London. Laura gave us a whistle stop tour on gender pay gap legislation, and how it differs from country to country, and how Ireland could benefit from introducing such measures. (We are yet to enact legislation requiring companies to report figures here!)
CEO of SOLAS, Andrew Brownlee, was next to speak as he outlined SOLAS's experience of measuring the gender pay gap and analysing the reasons behind it. Flexible working options, parental leave, and cross organisational team working are all measures SOLAS have adapted in an effort to promote gender equality – examples of positive and practical solutions other public sector organisations could take on board.
We were then joined on the WorkEqual stage by Sonja Yr Thorbergsdottir, the Chair of the Icelandic Federation of State and Municipal Employees. Sonja described the fight for equality in Iceland, where three months leave is now offered to both mothers and fathers after the birth of a child – and may also be extended to six months. Sonja highlighted collaboration and mobilisation as key factors in securing these rights.
Our final panellist was Emma Kerins, from Chambers Ireland. Emma excellently described why gender pay gap legislation should be SME friendly from the outset before warning that gender pay gap reporting should not happen in a vacuum, and that the right approach needs to be taken to support and encourage businesses to report. "Reporting is a diagnostic tool and not about 'naming and shaming'."
All-Party Oireachtas Video
To mark the occasion, we released a video featuring over 20 Oireachtas members and the Lord Mayor of Dublin speaking about gender equality. Participants included representatives from Fianna Fáil, Fine Gael, the Green Party, Sinn Féin, the Labour Party, the Social Democrats and Solidarity-People Before Profit.
Among others featured in the video were Senators Ivana Bacik, Lorraine Clifford-Lee and Emer Currie, joint Chairs of the WorkEqual Oireachtas All-Party Group, the Lord Mayor of Dublin, Hazel Chu and Ministers of State Peter Burke, Niall Collins and Ossian Smyth.
The video was posted on Twitter at 9am and created quite a storm! #WorkEqual was trending alongside #EqualPayDay in the number five position in Ireland with the video being viewed almost 3,000 times in 24 hours!
Next up
You can catch the next instalment of The Solution Series on Thursday, 12th November. We will be discussing 'What role has flexible working in achieving gender equality?' and you can register for the event here.