Hear Our Clients Voices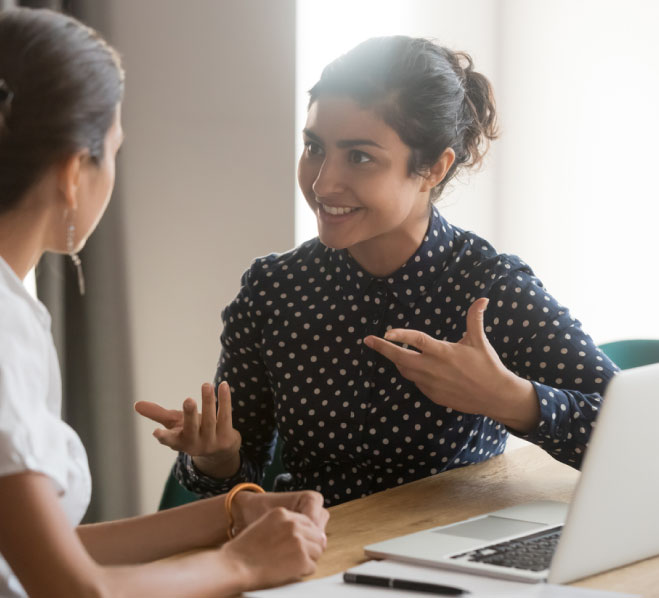 At WorkEqual, we provide services and programmes to help women enter or re-enter the workplace. Every day, we support new women to build confidence and get prepared to secure a job.
This is what just a few of them had to say about our services:
Isabella, Mentoring Programme
"It was hard to take the decision because I felt vulnerable especially because I have a human resources background and I didn't allow myself to ask for help when I felt stuck and overwhelmed. But after the first conversation with Georgina, I felt that I was not alone – I felt heard and understood. I had the support of my partner and friends (that is important) but the support of WorkEqual is different because you have the suitable people to support you is these situations.
"I am grateful to have my mentor. She has not only listened to me but also given me a safe space to listen to my own heart."
Korina, Careers in Mind Programme
"After a forced career break, for me to even imagine going back to work, or education was extremely daunting. I was extremely insecure even thinking of getting back to work or college. Also, I desperately wanted to change my career. I doubted everything, I forgot all my previous accomplishments, moreover I was stuck in a rut with the most fixed, negative mindset ever, regarding my future. I believed I will be a stay-at-home mum forever, as I have three young children, and everything seemed impossible.
"I started the Careers in Mind programme, which was huge eye opener for me. I was delighted to be introduced to WorkEqual and their amazing services."
Eileen, Styling Client
"WorkEqual has been an overwhelmingly positive experience for me. I came away from every session feeling very positive and enthusiastic. I was looking to return to work after stepping away in 2006 to look after our two children. I felt a disconnect between the person outlined in my CV, who had great experience and loved working with people, to the person I am today. I really wasn't sure how or where to start looking at employment options. I have learned to be kind to myself, reach out and ask for help.
From the moment I contacted WorkEqual they couldn't have been more helpful. I would encourage anyone who is looking for support and guidance to reach out – WorkEqual with lovely, kind, professional individuals – all dedicating their time to help others on their journey back to employment."
---
We can give you a tailored experience to build your confidence and skills to help you succeed in your job search. Our services are free of charge. To find out more and talk to our team about how we can support you, email info@workequal.ie or call us on 089-2202015.
---
Follow us on social media for updates on upcoming programmes and services: