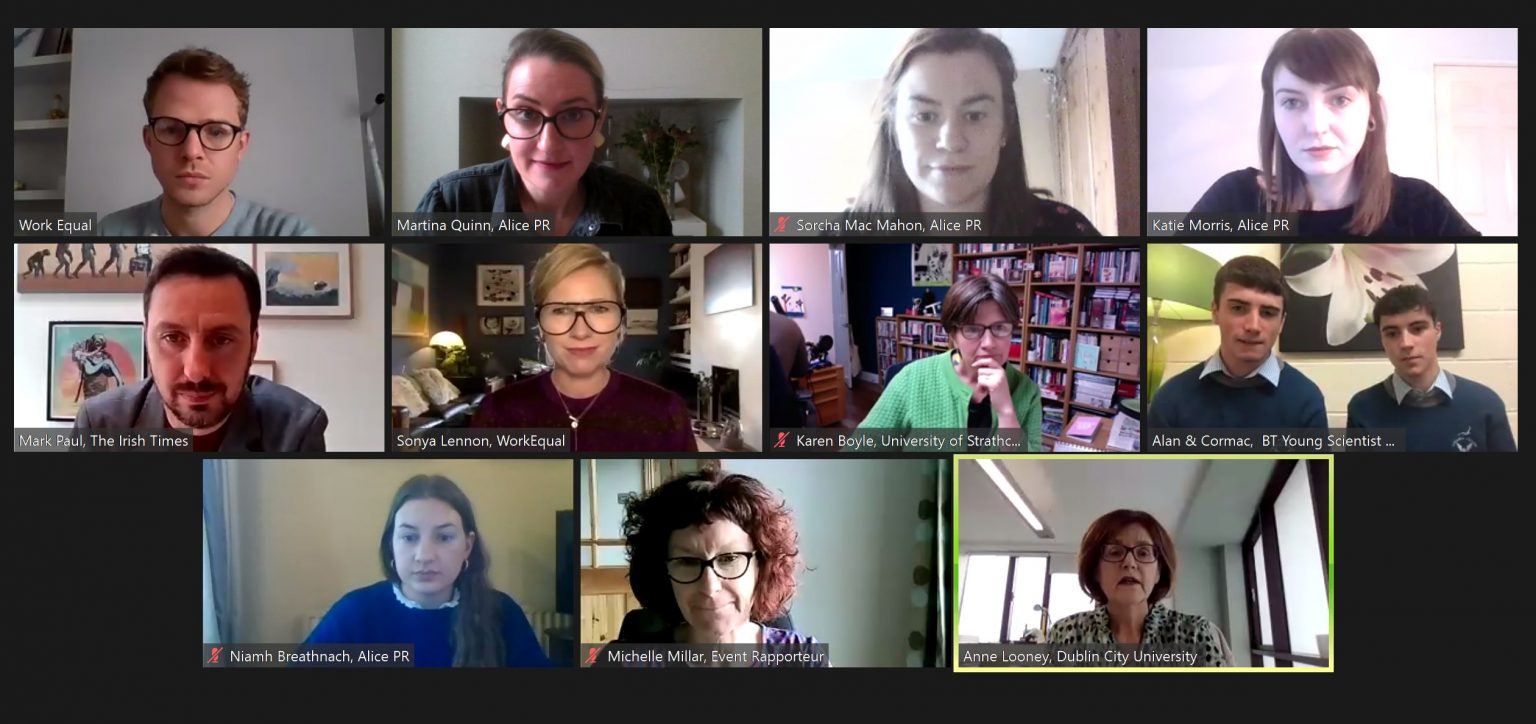 The Solutions Series starts with a bang
The first instalment of The Solutions Series went live at lunchtime yesterday, with our panellists discussing how we can banish gender stereotyping from society. We welcomed a diverse group of speakers to the WorkEqual digital stage who captivated the audience with their knowledge and commentary on gender stereotyping.
Watch it back…
If you missed the event, you can catch up on the full discussion here.
The event was introduced by businesswoman, entrepreneur, fashionista, and founder of the WorkEqual campaign, Sonya Lennon. Irish Times Business Correspondent, Mark Paul, was our vibrant MC for the lunchtime session. Mark expertly added to an already lively conversation by drawing on his previous experience on the topic as well as questions from our audience.
Among the panellists were Cormac Harris and Alan O'Sullivan – two fifth year pupils with a difference. They are this year's BT Young Scientist Exhibition winners. The pair from Coláiste Cholim, Ballincollig, Co Cork, won the coveted prize for the ground-breaking research on gender bias in young schoolchildren. On the WorkEqual stage they introduced us to their research, and highlighted  some of the key findings, such as, when they asked children aged 5–7 years old to draw an engineer, 96% of boys drew a male figure while only 44% of girls drew a female engineer.
Highlighting an interesting, and surprising pattern regarding subject choices in schools, Dean of the Institute of Education at Dublin City University, Professor Anne Looney, revealed traditionally male subjects are often timetabled against traditionally female subjects in mixed schools while in single-sex schools students have the freedom to explore a wider subject choice. Anne's key message, however, was that there is only so much schools can do. "We need to tackle gender stereotyping from an even younger age – before children start school. We need to look at other influences both in the home and externally in society."
"Who is the biggest sinner in terms of perpetuating gender stereotypes in the media?" was one of the questions put to our expert panel by our MC. "Donald Trump," was the immediate answer from Karen Boyle, Professor of Feminist Media Studies and Programme Director for the MSc in Applied Gender Studies at the University of Strathclyde in Scotland. "But" she pointed out, "we ALL have a responsibility to be part of the change," as she queried, are we as media consumers mirroring the reality of the gender breakdown in newsrooms or are we, as consumers, biased ourselves?
It is on to the next panel now, as we look towards our event on Monday, 9th November – which is also Equal Pay Day – the date on which women in Ireland effectively stop earning, relative to men, because of the gender pay gap. Join us for the second chapter of The Solutions Series where our expert panellists tackle: 'Why Understanding the Pay Gap is Key to Gender Equality at Work'. Register for the event here.