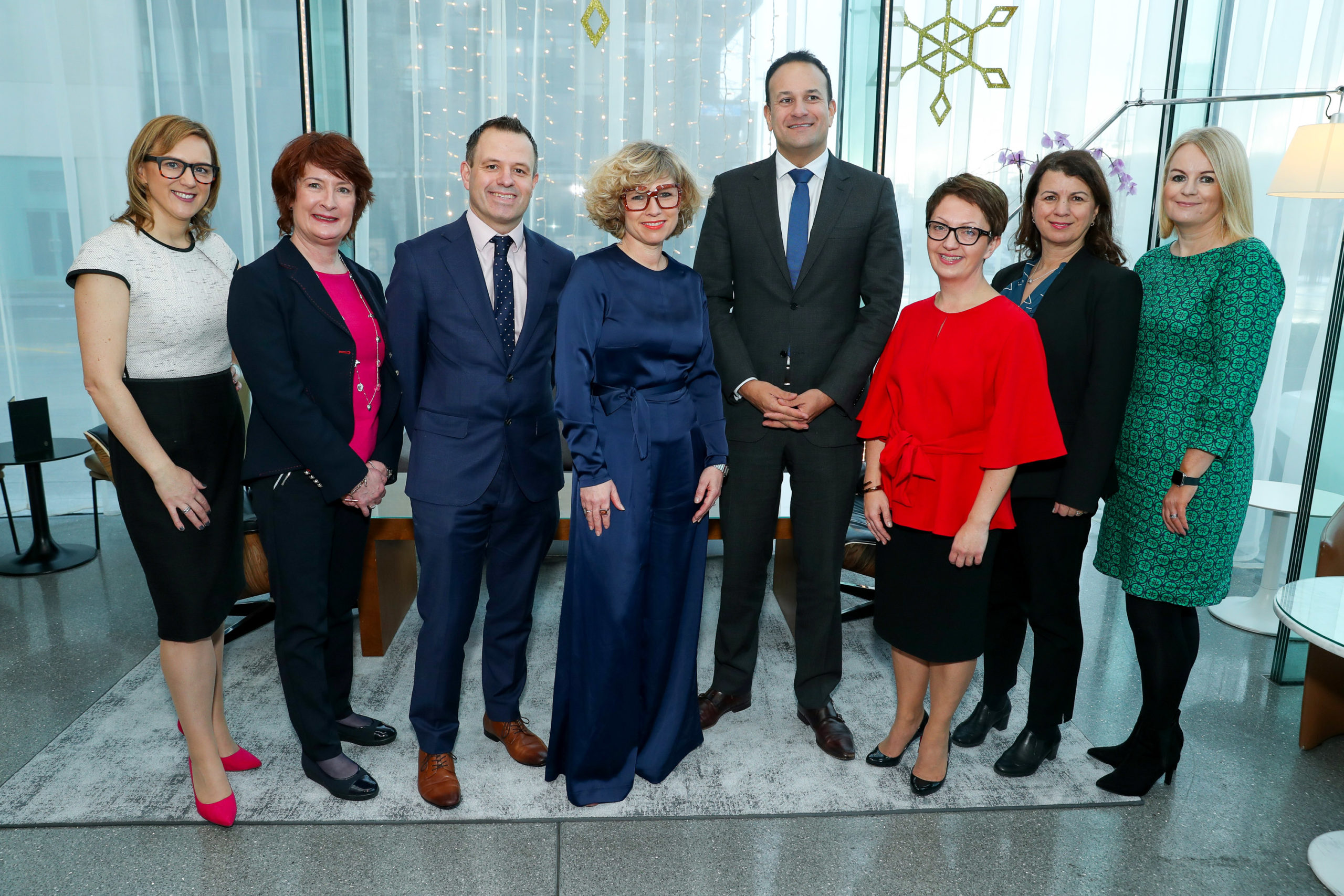 The #WorkEqual Conference
Yesterday, we held the inaugural #WorkEqual Conference, a hugely inspiring and energetic event. The focus was very much on the future – how the workplace needs to change for women and men – and on the practical steps that we can take now to achieve real equality. Our line-up of Irish and international activists, authors, researchers, journalists, business leaders and politicians proved to be even more thought provoking, insightful and entertaining than we imagined.
From Christine Armstrong's insights on 'flexible working' to An Taoiseach Leo Varadkar's comments on the 'Coppers Couple', we learned that there is no one cause of and no one solution to gender inequality. This is not a problem that will be solved overnight, but we're proud to be playing a part in bring the conversation to the fore and pushing it up the business and political agendas!
We're now looking forward to preparing a comprehensive report based on all of the attendee's contributions on the best way forward and practical steps to realise workplace gender equality, and submitting a practical policy document to government in the coming weeks.
For full details on the conference, see the press release below:
PRESS RELEASE
More accessible childcare and shared parental leave identified as top measures to achieve workplace equality
– Inaugural #WorkEqual conference opened by An Taoiseach, Leo Varadkar TD –
More affordable and accessible childcare and the option for mothers to allocate 50% of their maternity leave to their partners are the top measures needed to achieve gender equality in the workplace.  That's according to attendees at the inaugural #WorkEqual conference – 'Practical Steps to Workplace Equality' – which is taking place in Dublin today (27.11.19).
#WorkEqual is an annual campaign run by the WorkEqual  (WorkEqual ) charity, which aims to raise awareness about gender inequalities in the workplace.  An Taoiseach, Leo Varadkar TD, gave the opening address at the #WorkEqual conference today, which is also hearing from guest speakers from Iceland and the UK, as well as a range of Irish contributors.
Survey Findings
In advance of the conference, attendees and wider stakeholders were surveyed on the measures that could be taken to promote greater gender equality in the workplace.  Survey respondents were presented with potential measures, and asked to rate them in order of their likely impact.
Respondents picked more affordable and accessible childcare as the measure that would have the greatest impact in achieving workplace equality.  This was followed by the introduction of optional shared parental leave in the first year of a baby's life, whereby the mother could allocate 50% of her maternity leave entitlement to her partner, if desired.
The next highest ranking measures were:
A legal requirement for companies to disclose their gender pay gap data, and to provide accompanying reports re. same;
Greater take-up of paternity leave, with measures taken by employers to encourage more men to avail of their full paternity leave entitlements; and
Career support structures for women during and after maternity leave.
Opening Address by An Taoiseach
WorkEqual Conference Gender Equality
Speaking at the #WorkEqual event, An Taoiseach Leo Varadkar said: "The Government is determined to promote and encourage workplace equality. We're increasing State subsidies for childcare to make it more affordable, improving parental leave entitlements and we're enacting new legislation aimed at closing the gender pay gap.
"We need to remove the barriers to women staying in or returning to the workplace. We're developing 'returnships' for women who have been out of the workplace for a prolonged period of time – usually to raise a family or care for a relative – so we can help them re-join the workforce.
"Through our Balance for Better Business initiative, we are improving gender balance in senior business leadership. We want 33% female directors for ISEQ 20 companies by 2023 and 25% for all other Irish-listed companies.  In 35 days' time – on 1st January 2020 – not a single company traded on the Euronext Dublin markets should have an all-male board.
"We're making good progress but we know we can't be complacent. So we're establishing a Citizens' Assembly on gender equality; the first meeting of which will be held in January. It will bring forward proposals to increase women's full and effective participation at all levels of decision-making in the workplace, politics and public life and ensure equal opportunities for leadership.
"Congratulations to Sonya and everyone at WorkEqual  on the #WorkEqual campaign. Your innovative and inspirational leadership is making a difference.  The best ideas do not emerge out of thin air – they come from debate, discussion and the honest sharing of views."
Lessons from Iceland and the UK
Keynote speakers at the #WorkEqual conference include Tatjana Latinovic, Chair of the Icelandic Women's Rights Association; and British journalist Christine Armstrong, author of 'The Mother of All Jobs: how to have children, a career and stay sane (ish)'.
workplace gender equality
In her address, Ms. Latinovic is highlighting how Iceland has become recognised as a global leader in gender equality.  "Iceland has been on top of the World Economic Forum's Global Gender Gap Index report for the past 10 years running, having closed 85% of the gender gap," she said. "Not being able to close the gap completely shows that we are still a fundamentally unequal country, but we have come a long way, especially in recent years.
"I am very happy to have the opportunity to visit Ireland to share some of the legislative tools and measures that we have introduced to combat inequality in the workplace.  As chair of the oldest women's grassroot organisation in Iceland, I am also very happy to be invited here by WorkEqual , an NGO working on eradicating inequality, as I deeply believe that civil society is the main driver of change for a better, more equal world."
gender equality Sonya Lennon
Speaking in advance of her keynote address, Christine Armstrong said: "It's time for a different conversation about working, parenting, and the equal division of labour, both in the workplace and in the home.  As our working days get ever longer, the needs of our children and the worlds of school and childcare have not changed at all.  Working parents everywhere are tearing themselves apart, trying to balance the needs of their families with the needs of their careers and, too often, feeling like they are failing.  This needs to change."
Other speakers at today's conference include:
Hayley Barnard and Emer Bucukoglu, UK-based consultants who will speak on the lessons for Ireland from the UK's experience of implementing gender pay gap legislation;
Patrick Naughton, Executive Director of People and Organisational Development at ESB;
Emily Logan, Ireland's first Ombudsman for Children and first Chief Commissioner of the Irish Human Rights and Equality Commission;
Andrew Brownlee, CEO of SOLAS, the Further Education and Training Authority;
Julie O'Neill, former General Secretary of the Department of Transport; and
Dara Calleary TD, Deputy Leader of Fianna Fáil.
Recommendations for the Future
Speaking from the conference, Sonya Lennon, founder of WorkEqual , the charity behind the #WorkEqual campaign, said: "Today is all about developing practical, tangible recommendations to achieve workplace equality.  We all know about the huge benefits that accrue – both societally and commercially – when women are able to access work and progress their careers on an equal footing with men.   We also know about the problem areas and the challenges that persist; the obstacles that many women face when it comes to furthering their careers.
"What we're looking for today are solutions.  By the end of the day, we will have a series of recommendations – for businesses, policymakers and society at large – that will help to address gender inequalities in the workplace.  We'll be working with policymakers and government over the coming years with a view to implementing these, and ensuring workplaces in Ireland become truly accessible and equal for both women and men."
The #WorkEqual conference is being sponsored by SOLAS, the Further Education and Training Authority.